2018 National Institute Cooperative Education conference

Jessica Sentelle, Adam Shiflett, Gabriel Ryan, Wade Reiter, Ryleigh Travers, Jacob Riddle,Shelvin Arey, Allen  Melton
Nice participants had an exciting time at the University of KY. Ryleigh Travers won the Outstanding Female Youth Scholar competition. Wade Reiter won the student award for scoring the highest points for out of state competitors. Other VA students won in group competitions.
2018 Virginia Institute Cooperative Education conference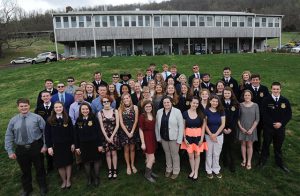 VICE attendees learned about cooperatives, their personal profile, how to compete in business, had fun and ate awesome food.
VICE Scholarship winners
$1,500 – Jacob Riddle $2000 – Wade Reiter $1,000 – Lydia Eskelund